Pilot's Tribute
Taking to the Skies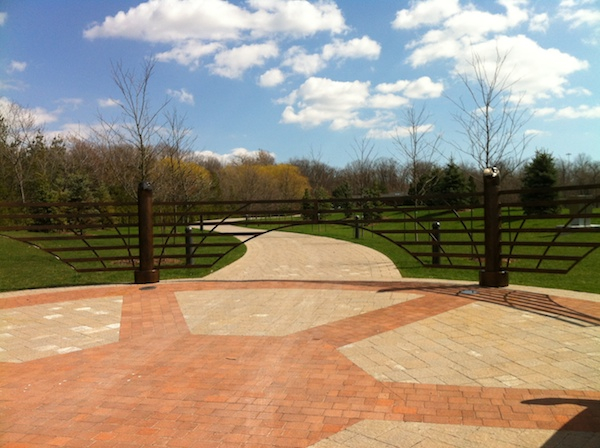 Ruedi Hafen, a recently retired helicopter pilot and founder of Niagara Helicopters Limited, approached me about designing a set of gates to underscore his years in the pilot's seat. The classic association with the kings of the sky, eagles, seemed perfect for this purpose. A helicopter pad had been built as part of the landscaping already in place and the gates needed to fit the existing shape while still providing entry to the driveway and property. We knew from the beginning that these would be made of steel and that a hydraulic mechanism to open these automatic gates would be concealed in the central pillar of each span.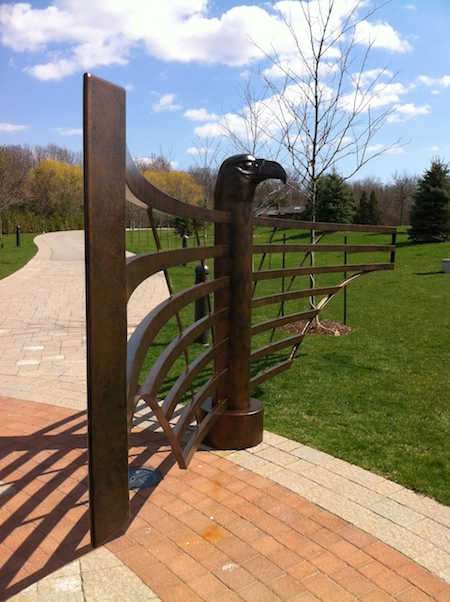 To capture the essence of eagles is the design, I needed to fashion two matching heads to crown the central pillar of each gate post. Each head was first carved from wood and then cast in aluminum before being painted and mounted on the gate. Each head weighed 80 pounds, was 18 inches tall and 12 inches in diameter. To function as a gate, each wing needed to pivot independently on a central axis and when closed, the gate spanned 54 feet. The most difficult part of this project was working with the hydraulic technician to engineer a way to pivot the gates whilst keeping the mechanism of action hidden from view. After this was done, it was a relatively straight forward job.
Ruedi was excited during the whole development process and was quite eager to be involved. He was present when I carved the heads and even brought a photographer to document the process. His enthusiasm was contagious and represents my favourite part of collaborating with homeowners, their passion provides inspiration and makes each new undertaking unique. In the end I was able to give Ruedi a gate that payed tribute to his past and will serve to keep his history alive well into the future.

Aluminum Pond Railing
A cardinal visits and decides to stay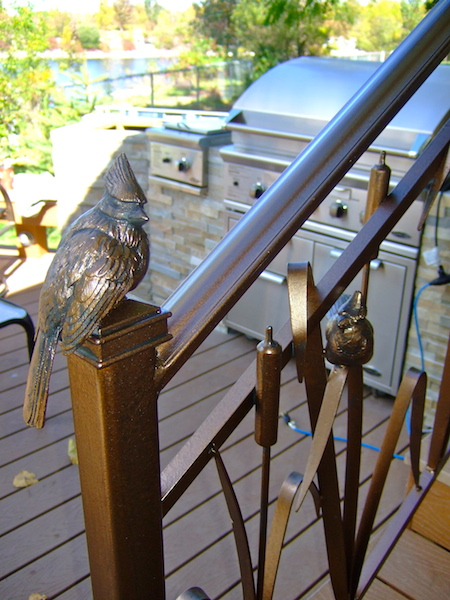 The water in the background is part of a manmade lake and the basis for the organic design of this railing. The owner of this home greatly loves nature and wanted the railing to pay homage to her passion, I was called to help turn her dreams into steel, or aluminum in this case.
The railing, birds and bullrushes are all made from aluminum. To get the level of depth and detail in the birds, I first carved them in wood then took them to a foundry to have them cast in solid aluminum. The coating is unique, first washed of grease then powder coated black, it was then hand rubbed with a metallic bronze finish to bring out the depth of the art. The railing was then attached with four bolts per post to an existing deck. Thanks to the casting and paint, it almost looks as if a cardinal really did come for a visit.

Grapevine Gate and Grass Sculpture
A local taste grapes and wine brings a sophisticated flare and whimsical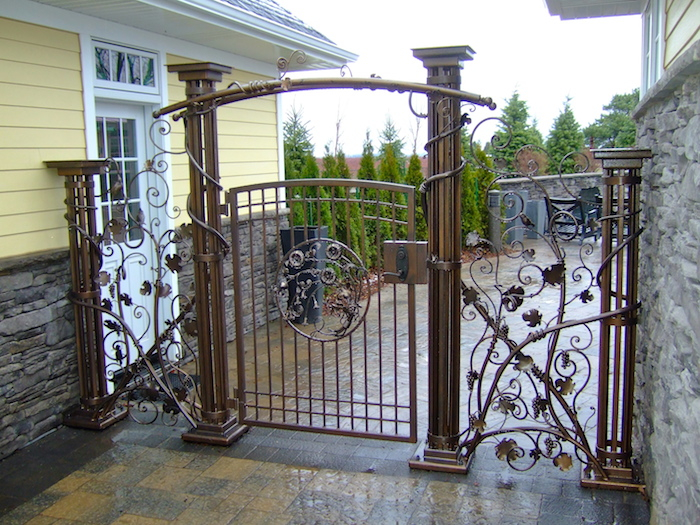 When this gate was commissioned, it's design was a challenge as the home owner refused to make suggestions and simply wanted to see what I could come up with on my own. Drawing influences from the surrounding wine country and from the feel of the pool it guards, I laid out plans for a single door gate draped in vines with a hint of a Mediterranean feel.
As you can seen, this magnificent piece developed a life of its own and seemed to shape itself. Each vine, leaf and cluster of grapes is hand wrought from high quality steel welded in place. To make it last, the entire piece needed to be washed of grease then covered in a liquid plastic before being powder coated with a deep bronze finish that glows in the sun. For support, its bolted to concrete plinths which I set beneath the interlocking brick. This is truly a gate which will stand as long as Greek columns which helped to inspire its creation.

1920's Replica Fence With Matching Gate
A stylish re-imagining of an old idea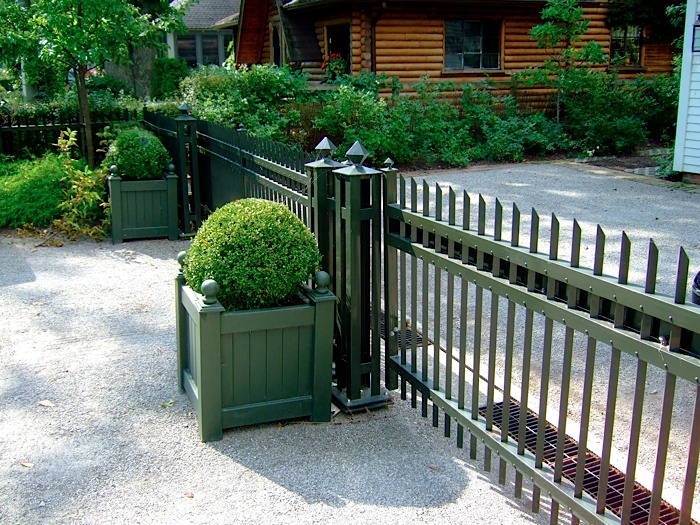 The homeowner had an existing, of somewhat rundown, fence where this now stands. Some sections were beyond repair while others simply required repainting. Once this was completed the owner had built a garage and wished for the fence to be continued with the addition of two automatic gates matching the existing fence. This necessitated the replication the rivets, finials and angles that no longer existed. With this in mind I custom built all the needed finials and hand applied these minor details to create a seamless transition between old and new.
To ensure that this new installation lasted longer than its former counterpart i had each section sandblasted to remove all paint and rust imperfections and prep the surface for painting. After this each is powder coated in a zinc rich primer base then again in a Graphite Green to subtly enhance the existing estate.

Lakeside Rail
Keeping the beaches of Lake Erie at bay with this elegant design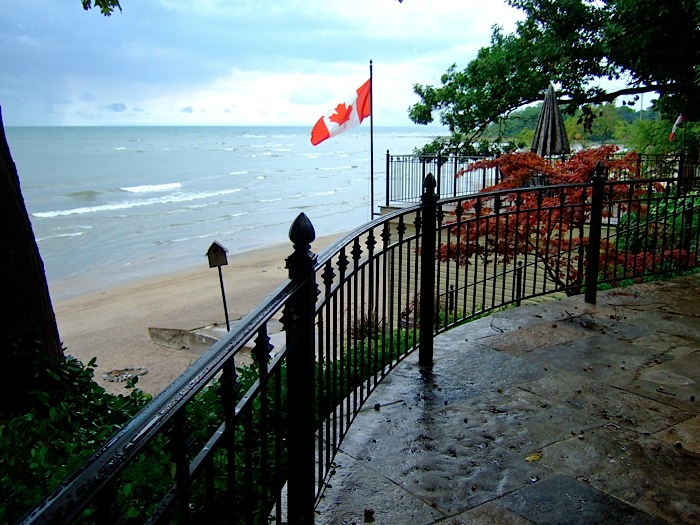 This particular job was tricky as it required large scale curves to flow with the flagstone deck that was preinstalled. The homeowner was also curious if this railing could be installed without the eyesore of baseplates; meaning we had to core drill each post through the flags and into the concrete beneath to give it the necessary support.
This railing is made from steel and to combat the relentless beating it will receive from the lake it was first sand blasted then powder coated with a zinc rich primer and then coated again with a colour called Oil-Rubbed Bronze. This finish is a UV resistant polyester powder coat for extra durability.
The flagpole was done at the request of the homeowner and adds a patriotic flare that finishes off the patio to perfection.

Nature in Bronze
Overlooking the mouth of the Niagara River in Niagara on the Lake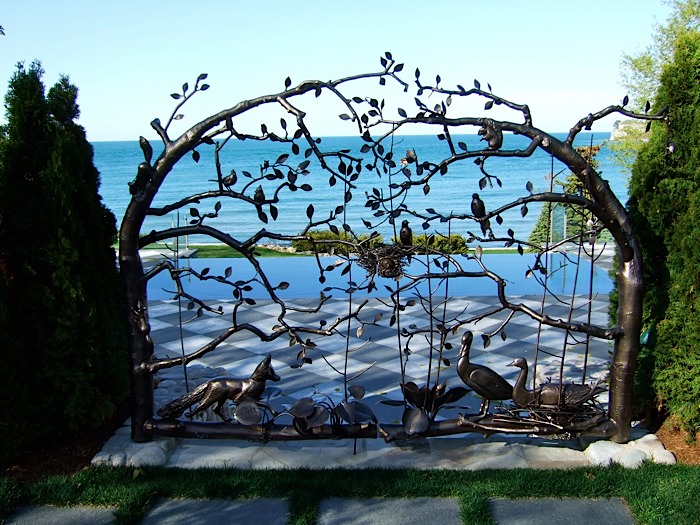 It's hard to imagine that the first idea for this gate stemmed from an ultra modern art-deco gate, which grew into a picture of cemetery gates from Europe, to this remarkably lifelike and unique edifice. It just goes to show that you are only limited by what you can or cannot imagine.
This entire gate was originally created in different mediums with wildlife being made first in wood. Each creature was hand carved then sand-cast in aluminum before being arranged and assembled. The branches that support the gate mount on steel posts embedded, in concrete 4' in the ground. This supports the 700 pounds of cast aluminum.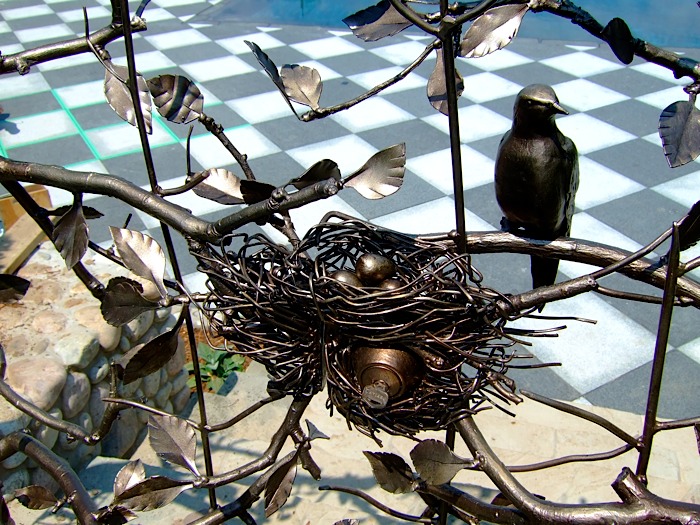 The lockbox is disguised as a dove's nest complete with eggs and subtle keyhole with the mother keeping watch.
This gate boasts 10 different species of animals and 4 different types of plants (complete with over 200 individually handcrafted leaves)
The finish was a five step process beginning with primer and ending with a lightly brushed antique bronze over a midnight black, giving dept to the fine details on the surface. I can honestly say this is, to date, the most interesting and sincerely gratifying piece of artwork I have created.

Sleek and Modern
This crystal meets chrome look fits ultra modern decor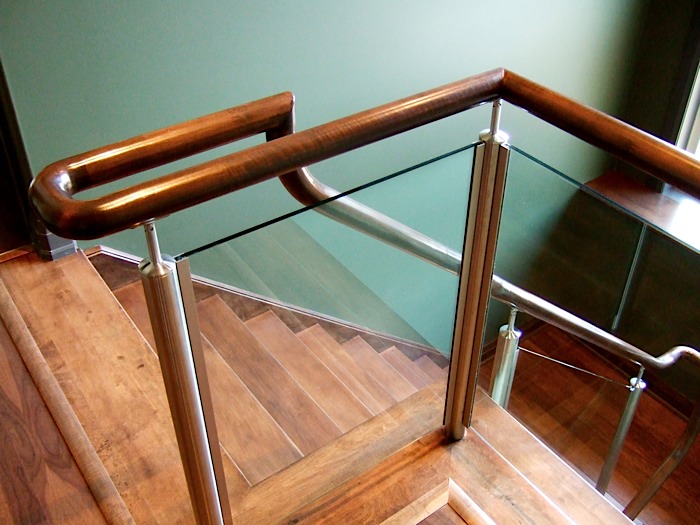 This clean and streamline home required more than the usual rustic blacksmith's design. The owners were looking for modern lines and low obstruction barriers to provide safety without distraction from the underlying architectural beauty of the home.
As the designer, I could not help but insinuate a bit of myself in this with the addition of maple rail to cap the simple but cool tempered glass and stainless steel combination. Together these meld seamlessly into a warm but cold, sharp but soft modern piece for this modern home.

Woodland Gate
Vast estate on the edge of the Niagara Escarpment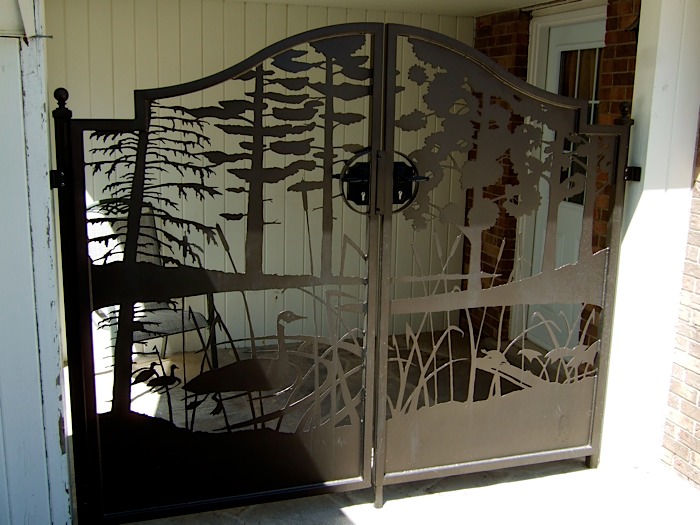 The home owner wanted a gate the reflected the natural wooded landscape in which he had built his home. This included both water and forrest habitats and required these two at odds ideals to be meshed together into a cohesive and still aesthetically pleasing design.
As with most other projects, I took this idea and went to my drawing board to see what I could come up with. After drafting a preliminary design, the homeowners decided that they also wished to see certain animals in their gate. Once they approved the second draft it became one of the usual labours of love.
The gate you see here, is plasma cut from a single piece of 3/16" steel plate, then set into the outside steel frame of their choice. The unique circular design of the lockboxes utilize a prefabricated stainless steel deadbolt lock set. The entire gate was then powder coated in an Antique Bronze finish and set in place.

Outdoors-Inside Log Cabin
Brining the outdoors in with creative railing.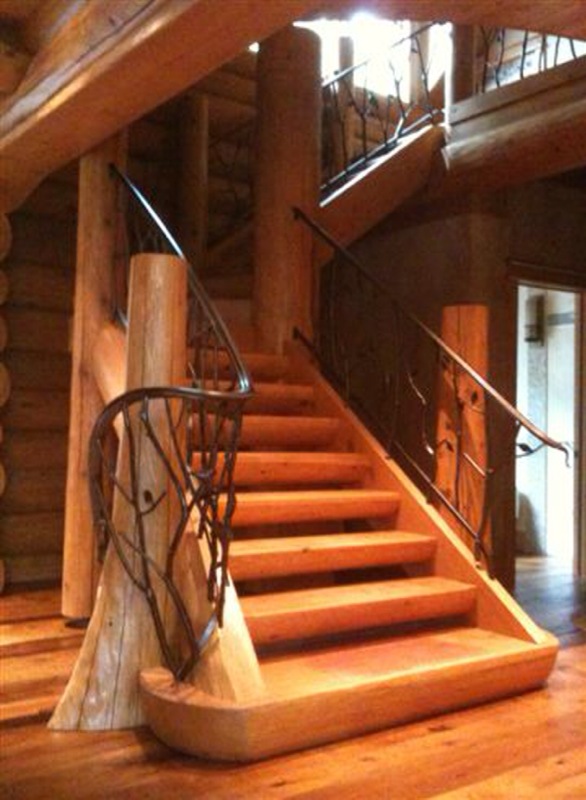 The contractors for this lovely home found way up in The Muskoka's were looking for a natural but sturdy railing that had outdoor influences, but they weren't quite sure what would work. When the contractors got together with the homeowners and discussed this, they had found a picture in a magazine featuring similar ideas. Having no ironworker contracted, they went looking, found me and booked a consultation.